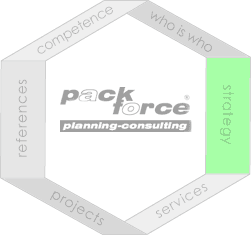 strategy

Business strategy of PF:
Neutrality and candid reporting was of highest priority for PF from the beginning which resulted in some basic restrictions for PF's way of consultancy:

PF works only on a special, time-limited or task related contract basis. No longterm agreements or consulting contracts for one company has been made to keep independence and neutrality.

Only advice for recommendable machine suppliers are given, no sales of machines, equipment, and materials, If you are looking for pliable consultancy, PF wont be the right partner.
Since most of jobs PF has been done on an exclusive basis, there is no wonder that You hardly can find PF's nor the managers name in publications or lectures.