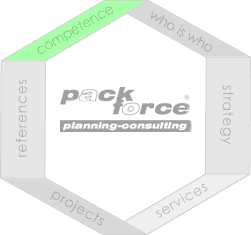 competence

- consulting and planning in the field of packaging, transports and distribution,
- development and design of consumer and transport packaging,
- rationalisation and cost reduction of packaging (materials and construction),
- certification of quality of packaging (transport hazards, insurance etc.)
- international exclusive and multi-client studies,
- technically oriented marketing and market research with emphasis on innovations,
new technologies and packaging design.

Our philosophy:
No development l'art pour l'art but technical feasible solutions based on existing machinery and therefore allowing a quick realisation.